@'j't'q'd@'b'h's'x


Kure city is located in the southwest part of Hiroshima Prefecture, facing "SETO INLAND SEA" ,and is a city with a clement climate and a beautiful nature.
The city region area ,where accounts for about 55% by the forest,is 146.2Km2 and the town ground is scattered according to the coastline. Kure city as the navy town before the war has grown up as an industrial city of the seaside type after the war.
But the further enhancement of the city function had be restricted ,because the supplies of house sites and industrial sites did not advance by the chronic land shortage originating from geographical features and the preparation of the trunk road line did not progress as the town was divided into parts by mountains.
As a result,Kure city had become the stagnation of the city activation.
Then,projects toward the mountain and the sea by using geographical features,"Marinopolice" which achives effective use of water-front and "Technopolice" which achives effective use of inland parts, have be advanced .And Kure city has aimed at the achivement of "the peaceful industrial harbors city" with energies and enriching by a new city-making which a natural environment is made the best use of.
Kure city assumes Marinopolice and Technopolice to be long ages as a wing in the 21st century now.
Data of Kure city
size
146.2 Km2
population
211,384
families
85,137
temp(average)
17.0 degrees
humidity(average)
66 %
general account
800 million dollar
special account
400 million dollar
elementary school
38 schools
junior high school
19 schools
senior high school
9 schools
univ. & college
4 schools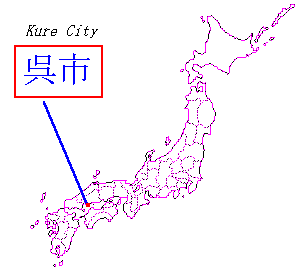 Kure is an impressive town,and is small enough to enjoy in a short time.
The architectural structures that make up the town of 220,000 are beautiful as well as practical.For instance,the beautiful crimson Ondo Ohashi is an impressive bridge which spans the straight.It has a spiral approach to provide clearance for passing ships."Ondo no Seto Park",located on the Kure side of the bridge ,is noted for its azaleas.
From this park,Mt.Yasumiyama Skyline Driveway offers a fine view of the Seto Island Sea.Kure city is still thriving as part of the Seto Island Sea's coastal industrial zone.Hints of the navy town of former days are still apparent.
Sightseeing highlights include "Ondo no Seto Park" which features a national tourist lodge and Takagarasu observation point.The park's scenery is breath- taking.The objects preserved and displayed in the Irifuneyama Memorial Hall give the visitor a glimpse of Kure's history.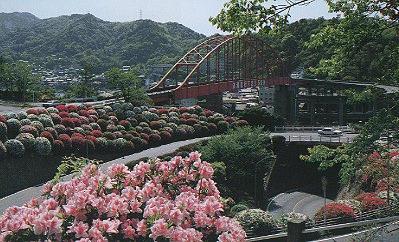 Ondo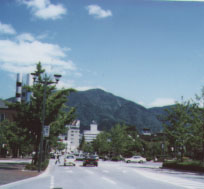 Kuramoto
---
's''''Ž'"'''''"''"'‰''Ž

Take the JR train(Kure Line) from Hiroshima,about 35 min.For Ondo no Seto, take the bus bound for Ondo lodgeu‰ΉŒΛƒƒbƒWvCand get off at Ondo Ohashiu‰ΉŒΛ'ε‹΄v,25 min.


Please write something on the bulletin board!